Assalamualaikum !
nih aku nk post kisah sedih lagi sambungan citer ''bitterheart" aku yg lalu !
kayy..first mmg kitorang da break !
n then die mntak maaf n wat status at FB die yg die sgt2 mntak maaf !
aku nih jenis yg cpat maafkan org actually, but sebelum tuh aku taknak maafkan die
tapi sbb sian kan die begging2 at aku at chatbox aku pon maafkan lahh
tak lama kendian die nk continues blik relationship ktowang !
dsbbkan aku terlalu lalu syggkan die,dgn bodoh nye aku pon setuju ! but die mntak at aku supaya izinkan die wat status single at FB die,kayy fine aku ok je !
n then tonite ! *aku tak taw la kan yg kawan die taw ke tak aku hook balik nan die?
ttibe aku teringin tnye pasal die at kawan die,aku tnye KP camne happy or what?
terkejut beruk aku ! bile kawan die kate "KP happy nan scandal baru!"
OMIGOD gile,,what the hell ! sumpah ! hati aku kne BOM !
elok2 aku happy ari nih ! terus jd murung blik ! hemm,ntahlah !
first time kne GAME nan LELAKI !
ni yg aku nk teruskan nan slogan aku nih !
ANTI-LELAKI !
woman will happy if there'r no man in this earth !
i hate guys ! except the guys who takecare of meee !
okayy la guys..tgh sedih,badmood,freaky's feel,my heart was nothing rite now !
so kaurang jgn terkne macam aku k! kang nangis tak berair mata plak !
(macam aku skang nih)
da takleh nak nangis !
k bye2 salam !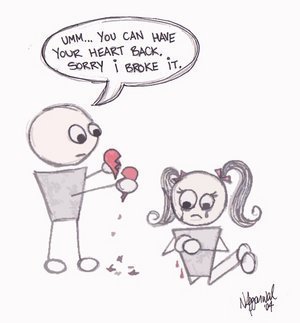 easy come n easy go ,that as are youu break my heart,n tearing love aparts !..
p/s : for those people who had read my entry ! i'm not to get bad on that guy! i'm just want 2 release my
dim-wit prob here ! hope youu'll understand,n remember tis 'I LOVE U'..*wish for that guy